ReversingLabs will be exhibiting as a bronze sponsor at Booth #20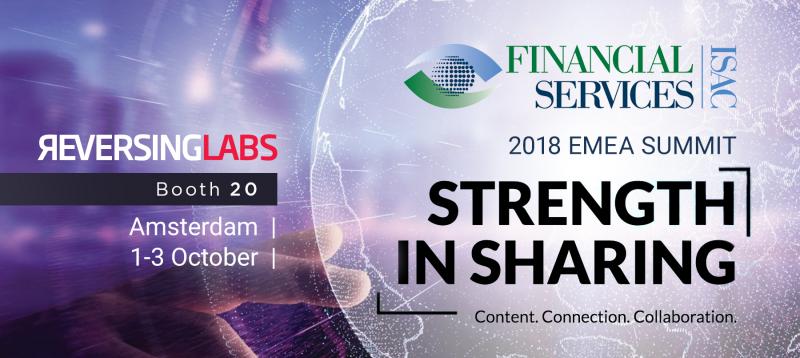 At the upcoming FS-ISAC EMEA Amsterdam Event, ReversingLabs will be exhibiting as a bronze sponsor at Booth #20.
FS-ISAC EMEA visitors will see ReversingLabs' next generation malware hunting solution as well as demonstrations of ReversingLabs' authoritative file intelligence solution, TitaniumCloud which now exceeds 7 billion curated malware and goodware files. Members of ReversingLabs' executive and threat research teams will also be available to answer any other questions attendees might have.
ReversingLabs' new advanced malware hunting package allows users to quickly and easily search and pivot on data for emerging malware, trending threats, network-related data and document and certificate misuse. It also includes multi-conditional queries with 500+ logical expressions to enable more effective and efficient searching.
About ReversingLabs
ReversingLabs helps organizations find and neutralize the enemy within. Our solutions provide enterprise-scale file analysis, authoritative file intelligence services, and advanced malware analysis and hunting – all purpose-built for identifying previously undetected malware inside customers' networks. Key features include unique file decomposition and static analysis, comprehensive file reputation data, and integrated local and in-the-wild threat intelligence. ReversingLabs solutions deliver the capabilities, speed, and scalability that large enterprises and government agencies need to uncover and contain sophisticated malware threats that have slipped past their other security measures.
Visit ReversingLabs at Booth 20
Connect with ReversingLabs via LinkedIn, Twitter, Facebook, or ReversingLabs Blog
ReversingLabs and ReversingLabs logo are trademarks or registered trademarks of ReversingLabs in the United States. All other trademarks used herein are the property of their respective owners.
ReversingLabs Media Contact:
William Munroe, Sr Director of Marketing Communications
Email: will.munroe@reversinglabs.com