Previews next-generation advanced malware hunting solution to help organizations detect and defend against advanced attacks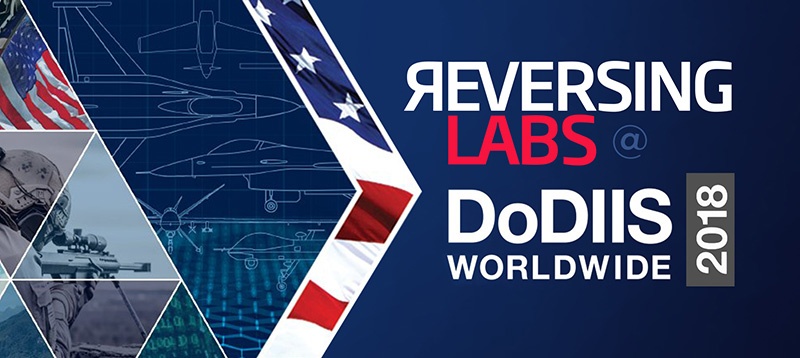 ReversingLabs will join government partner Carahsoft and exhibit in their Partner Pavilion at DoDIIS 2018.

The DoDIIS Worldwide Conference brings together experts from government, military, industry, and academia in order to tackle the IT challenges and complexities impacting the mission user. The theme of this year's conference, "Data as a Weapons System: Revolutionizing Intelligence," underscores the importance of accelerating DIA's transformation into a data-centric organization to achieve mission success in the 21st century.
Carahsoft has a proven history of helping government agencies find the best possible technology solution at the best possible value. As a proud partner of Carahsoft, ReversingLabs will demonstrate our File Intelligence Service, which now exceeds 7 billion malware and goodware records, and provide a sneak preview of our next-generation Advanced Malware Hunting Solution.
The new malware analysis and hunting solution provides powerful features such as multi-conditional queries with 500+ logical expressions to enable more efficient and effective searching. Users can quickly and easily search and pivot on data for trending threats, emerging malware, network-related data, and document and certificate misuse. The solution is optimized for fast results, typically less than 3 seconds for initial results with targeted search results within 24 hours. It enables analysts to use multiple YARA rulesets to traverse large historical sample sets quickly to enhance detection and reduce impact from breaches and targeted campaigns. Analysts can subsequently be alerted for a variety of conditions, e.g., when a sample has changed detection levels, or when YARA rules have triggered, or when dynamic analysis is complete.
Hope to see you at 2018 DoDIIS Worldwide Conference in Omaha, August 12-15th.